Optimal Posture Corrector
Regular price
$ 24.95 USD
Regular price
$ 34.95 USD
Sale price
$ 24.95 USD
Unit price
per
Buy 1 Get 1 FREE
Don't be the person with bad posture.
Fits perfectly to any body size, and keeps the shoulders in a firm upright position as well as the spine. It stays on no matter how fast you run or how hard you work out.
Is your back pain preventing you from working out longer, or harder?

Is your back pain preventing you from sitting for long periods?
Is your back pain preventing you from standing up taller?
You deserve to be pain-free and have a healthy posture.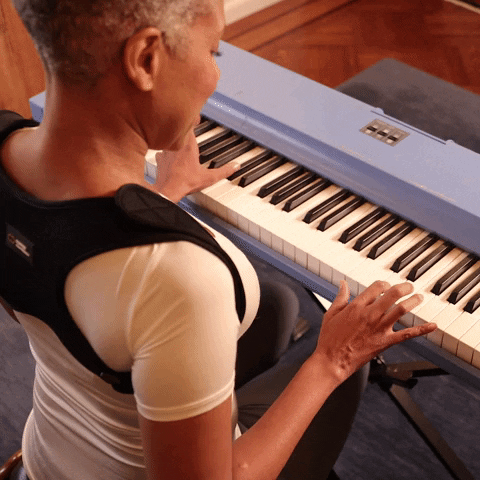 ✅  A simple non-surgical way to correct humpback, improve posture and help relieve back and shoulder pain
✅  Can be used at the home, office, gym, and outdoor. Can be put directly on clothes. Skin irritation would not be caused by the support band.
✅  Made of a very soft composite of breathable fabric and nylon. Heat dissipation and permeability have been upgraded to improve comfort.
✅  Superior design and high-quality material make it easy to adjust freely through the shoulder band.
✅  The Optimal Posture Corrector Can be worn over or under clothing by men, women, and young adults.
No matter how hard your workout, It stays on.
WHY OPTIMAL POSTURE CORRECTOR?
Unhealthy posture can lead to long-term back pain, muscle pain, myopia, and other medical problems. Wearing a posture corrector for a period of time can develop muscle memory and can keep your back straight even if you don't wear a posture correction device. 
HOW CAN POSTURE AFFECT MY HEALTH?
Sciatica And Muscle Pain Relief
The coronal and lumber section of the frontal plane maintains the gravity balance of the body, reduces the burden on the muscles, corrects and relieves pain, and bad postures would cause sore necks and shoulders, and even headaches

Pregnancy Aid And Protection
The Breathable and elastic material makes it easy for pregnant women to wear it regularly and continually. Standing on your feet frequently? sitting in front of your computer all day? That is why you need to be cautious about the long-term effects on your posture and overall well-being. 

Easy To Adjust And Wear
Universal sizes, M-L-, easy to wear, without any help, you can take off and wear a posture corrector by yourself
You cannot put a price on good posture and everyone deserve to live a healthy and pain-free life. If for any reason you are not 100% satisfied with this product, we will refund your money 100%. 
Optimal Posture Corrector pulls back your upper back to the right position. Use it to improve your whole body posture during work or life in general. Wear it for 10-20 minutes daily, then add 10 minutes every day.
Padded neoprene corrector can be worn comfortably under or over the clothing. Align your shoulders, spine, and upper back to improve posture.
Our optimal posture corrector has helped thousands of people improve their posture and overall health by 20 percent or more! You'll love our new stylish and very comfortable posture corrector hugging your upper body, as it can help prevent injuries while providing comfort throughout your entire day. We're so excited for everyone to try it and judge for themselves.
Share
Optimal Posture Corrector is making my life so much better. Thank you
I love this product, It really does work, I feel like I'm standing better now.
my wife really likes this product, so I will order one for myself as well.
I can only wear it for an hr a day but it has helped with my back actually.
Love it
I use to have migraine almost everyday and I think it was because I was bending over so much and not paying attention to my posture and spine. Since using this product almost everyday for just half hr I can totally feel the difference i my overall posture and I don't have as much migraine anymore. I believe it's connected.